For many people, the bathroom is no longer just a functional space. It's become a haven of indulgence, a refuge from the stress of the outside world, and a place to relax. And the bathtub plays a big role in this.
Everyone loves a soothing bath. Whether you're a bath bomb aficionado, a new-age fan of candles and whale songs, or a glass-of-wine-in-the-bath type of person, getting the choice of tub right is crucial for any bathroom.
So, when it comes to bathroom renovations, choosing the right tub is a big decision. There are a number of important considerations to factor into your tub shopping. Besides the look and comfort factors, there are practical considerations including space, price, shower placement and much more.
If you're planning a full home renovation or just a bathroom renovation in Melbourne, we have some great tips to help you select the perfect bathtub.
6 Essential Considerations When Choosing Your Bathtub
When planning a bathroom renovation, your choice of bathtub can end up being one of the most important decisions. As the largest single item in the room, it's going to take up significant space and will be an integral design feature.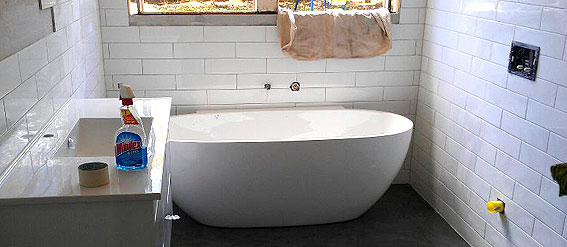 So here are six things to consider when choosing your tub.
Wants and needs:

Do you "need" a big jacuzzi-style tub complete with jets that can fit more than one person? Is a freestanding clawfoot tub essential? Do you need something appropriate for bathing children? Does your tub need to accommodate anyone with mobility issues? These kinds of questions will help you to determine the type of tub that might be appropriate. For example, a deep clawfoot tub, although beautiful, is not really appropriate for children or people with mobility issues.

How much space do you have? 

As the biggest item in your bathroom, the amount of space you have is a crucial consideration. A free-standing tub will take up much more floor space than a recessed or corner tub. If you're doing a bathroom renovation, it's also worth considering finding a tub that will fit with the existing plumbing, so you won't have to install new pipes.

What style do you want?

 As the largest feature in your bathroom, your bathtub will be a major design choice. You'll want to select a style of tub that complements your bathroom aesthetic. For example, a clawfoot tub might not work in an ultra-modern bathroom, but would work beautifully in a rustic or vintage style bathroom.

What material do you want?

 This decision is both practical and aesthetic. The material your tub is made from will affect how it fits into your design concept but also how practical and durable the tub will be. Bathtubs come in a variety of materials, and each has its pros and cons:

Fibreglass:

 Generally cheap and lightweight, but not very durable or aesthetically pleasing. Can also be quite slippery.

Acrylic:

 More expensive than fibreglass but more durable and better heat retention.

Enamelled cast iron:

 Classic look, great heat retention and durable, but expensive and heavy.

Cast polymer:

 Composite material coated in enamel that offers the heat-retention of cast iron at about one-third of the weight.

Enamelled steel:

 Looks and feels like cast iron but much lighter. However, it doesn't have the heat retention of cast iron.

Stone:

 Natural stone tubs like limestone, marble and granite look stunning but can be extremely expensive. Or you can go for composite stone tubs that mimic the look and feel of natural stone.

Copper:

 The absolute luxury high-end of the market. Copper tubs don't come cheap, but they offer the ultimate in in heat conduction and retention and can be custom made to your specifications.
Shower placement

: If you're looking for a bathtub/shower combination setup, that will limit your choice of tub options. You'll need to choose a tub that is comfortable and safe to stand up in and your tub placement will be limited by the need for shower plumbing.

Budget:

 Understand what you have to spend and how much different tubs will set you back. A basic fibreglass tub can be as little as $300 while a high-end stone or custom-made copper tub can cost you upwards of $10,000.
If you're planning a home or bathroom renovation or looking for bathroom builders in Melbourne, contact RenoWorx. We can help you design the bathroom of your dreams and get you soaking in your new tub in no time. Give us a call today on 0403 278 668 or contact us online.
Contact Renoworx builders for any bathroom, kitchen or any kind home renovation in Melbourne!